Redefining a Classic
"It's a Brazen cover." You don't know how many times in my career I have heard another writer describe their cover, or someone else's as "a Brazen cover." The look is now iconic, but in 1996, the cover for Brazen Angel was a brand new take on covers–the tousled sheets, the tangled couple, the sexy pose. John DeSalvo in all his glory.
Oh, those had all been done, but not put together as it was for Brazen Angel. When I was shown an early version of the cover, my jaw dropped. The eye popping color, naked John DeSalvo. Have I mentioned John DeSalvo? I knew this cover wouldn't be easily forgotten, but never did I think it would become a classic.
Can I gush some more? I've loved the Brazen Angel cover from the first moment I saw it and I still love it. But when I got the rights back to Brazen Angel, they came without the cover. So it was time to find a new look for Brazen Angel.
Because I had seen a couple of covers that Su over at Earthly Charms had done, still just stops me–and it is "Brazen" after all–sheets and sexy pose!) I turned to her first. You might not know it, in fact you probably don't, but Su designs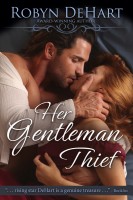 (this one for Robyn DeHart all my bookmarks so I knew she'd understand and get what I wanted.
What I definitely wanted was to keep the sexy feel of this story. This story is very sexy. Still is, even all these years later. Sophia and Giles are instantly attracted to each other and that tension and desire runs rampant through the story–which surprised me.
But I'll talk about that unexpected revelation in an upcoming blog.
So we chatted back and forth about how to handle the sort of iconic qualities of these books (They also been known as the "red one", the "blue one" and the "green one.") and decided to at least give a nod to their old colors, keeping Brazen Angel branded with red, Brazen Heiress with blue and Brazen Temptress with green. And very quickly, these classic sexy books had a fresh new look:
I think the new Brazen Angel retains that sexy tension with this wonderful pose. I love the dress and all the red, and it has the feel of Sophia's deceptions and Gile's longing for her.
This cover for Brazen Heiress truly captures the long and almost too late realization that Wedd Dryden comes to–that the minx he once thought of as an annoying plague, is the woman of his dreams. There is a tenderness in this pose that is perfect for their love story. For while it is a dog fight to the death in some ways, once he makes that acknowledgement of his feelings, she is his for life.
I must confess that Brazen Temptress is my personal favorite of the three. Writing Julien and Maureen's story just about broke my heart. I had the unenviable task of writing their early love story and then ripping them apart. I cried buckets writing this story. LOL. The true challenge came figuring out how–after a horrible and wrenching betrayal, do you find the road back to trust and love? Doesn't this cover capture that moment perfectly. It just says, "I love you with all my heart."
What do you think? And to make it more fun, let's do a blog giveaway, so here it is:
Which cover is your favorite or which story is your favorite?
Comment below to enter this week's blog drawing.
The Rules:
1) Leave a comment below and let me know which of the covers or books you love:
and/or
2) Tweet the following: Enter to win a signed book by #JuliaQuinn & an arc of @elizboyle's Along Came a Duke at http://elizabethboyle.com/blog/?p=2129 #BrazenContest
Do both and you are entered twice! I'll give you all until midnight, PDT, Saturday, March 31st to get your entries in.
Make sure to check back here Monday, April 2nd to find out if you won. You'll have a week to claim your prize.
Last week's winner is: SharonA, who was poster #14 and made her comment on March 19, 2012 at 11:38 AM. Sharon, contact me with your address and I will send you your prize. You have a week to claim it.