Five Things about Debra Mullins
Want to know a little more about one of my fellow Avon authors? Here are five things you might not know about Debra Mullins:
1) First memory: Putting salt in the sugar bowl. I was about two or three, and my dad took his tea with a LOT of sugar… You can guess the rest.
2) If you could go on a date with one of your heroes, which one and why? Lucien DuFeron from Three Nights… He's a self-made man in a time when that was looked down upon, having to fight the taint of illegitimacy while at the same time enjoying the backhanded social perks to be had because his father acknowledged him. He's super smart–a genius at the stock market–and I just can't resist a brainy guy. Plus he's half French and well versed in the ways of amour.
3) Favorite dessert: Chocolate covered strawberries or cannoli. It's a tie.
4) Most played song on your iPod: Rick Springfield, either "Souls," "Affair of the Heart" or "Jessie's Girl." I'm a child of the 80's.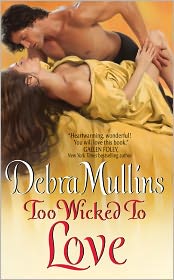 5) Secret passion Geneology. Just last year I started tracing my family tree, and I'm fascinated by the stories.
Make sure you don't miss Debra's new release, Too Wicked to Love, which is out now. To read an excerpt or learn more about Debra, visit her website, DebraMullins.com